Patriots Maul Panthers 24 to 7
It wasn't a close game. The Patriots, playing on national TV for the first time this season, showed the CBS watching audience why NFL pundits believe that the 07 Pats have the right mix to win a Super Bowl. Defense, offensive and special teams, the Patriots have it all. Even the backups, players such as Le Kevin Smith, Tory James, Jarvis Green and James Sanders, as they showed tonight, have the capability's to start, and play well. This team is loaded from the bottom to the top, expected great things - because their going to be unlike any other team in New England sports history.*

The Patriots opened up the game by running Laurence Maroney nine straight plays. Maroney had missed both of the previous preseason games so you can assume that this was quite a workout for him (he totaled in the game 58 yards on 15 rushes). The Patriots took a three to nothing lead into the second quarter but then burst out in the second and third quarters to score 21 points. Tom Brady had his best game so far this year throwing for 167 yards (17 for 22) and two touchdowns. His longest completion, a 37 yard pass to Donte' Stallworth, was probobly ironically his worst pass of the game. Overall, Brady and the Patriots offense is ready for week one. Randy Moss hopefully will be ready as well (I'm 90% sure he will be) but we do known that barring the unthinkable Stallworth, Welker, Gaffney, Cardwell and Washington will be.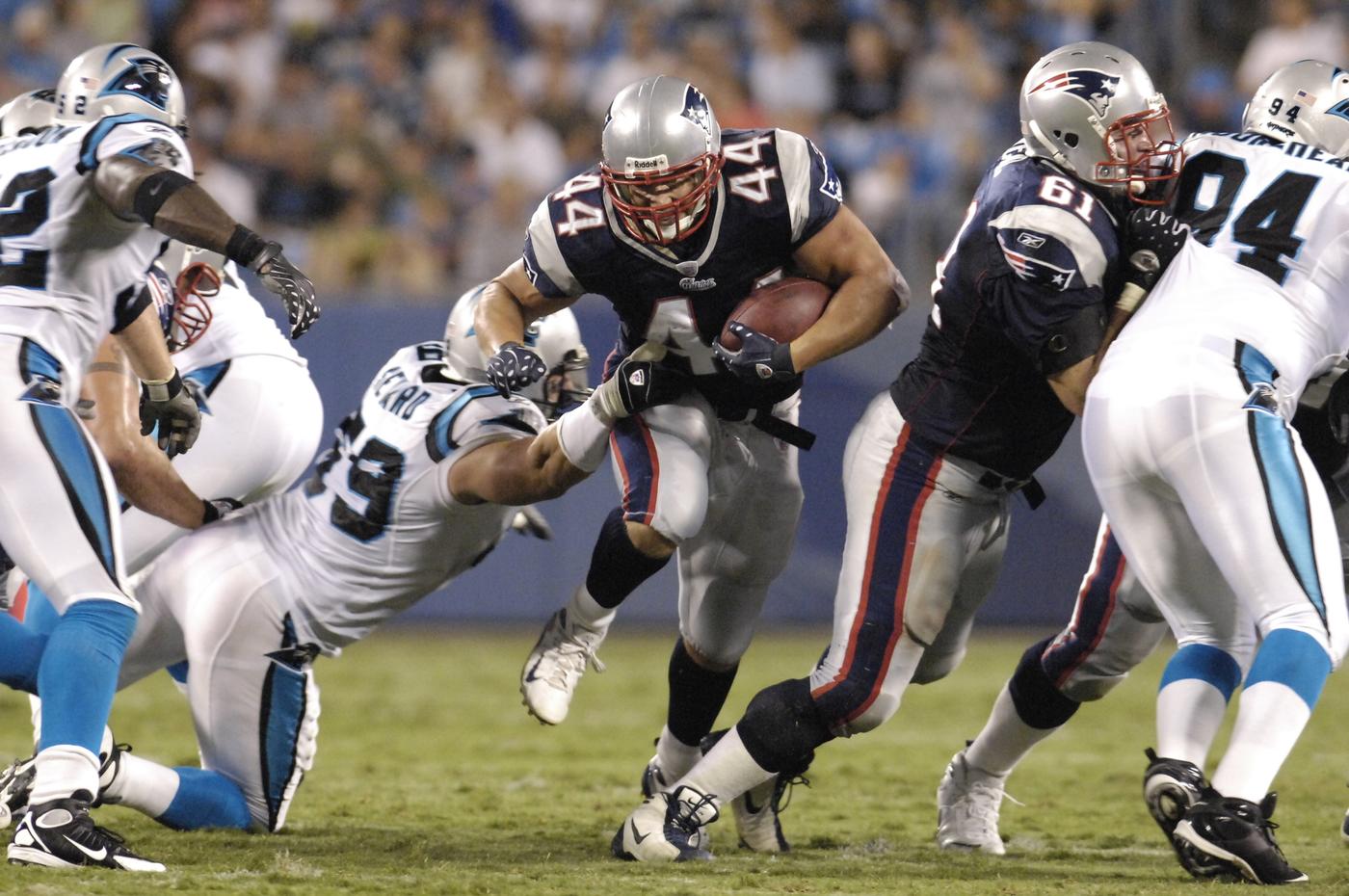 What a game for Heath Evans and Sammy Morris. The two backup running backs combined for a total of 85 yards and one touchdown on 14 rushing attempts and four receptions for 42 yards and a touchdown. Evens had a perpendicularly great run in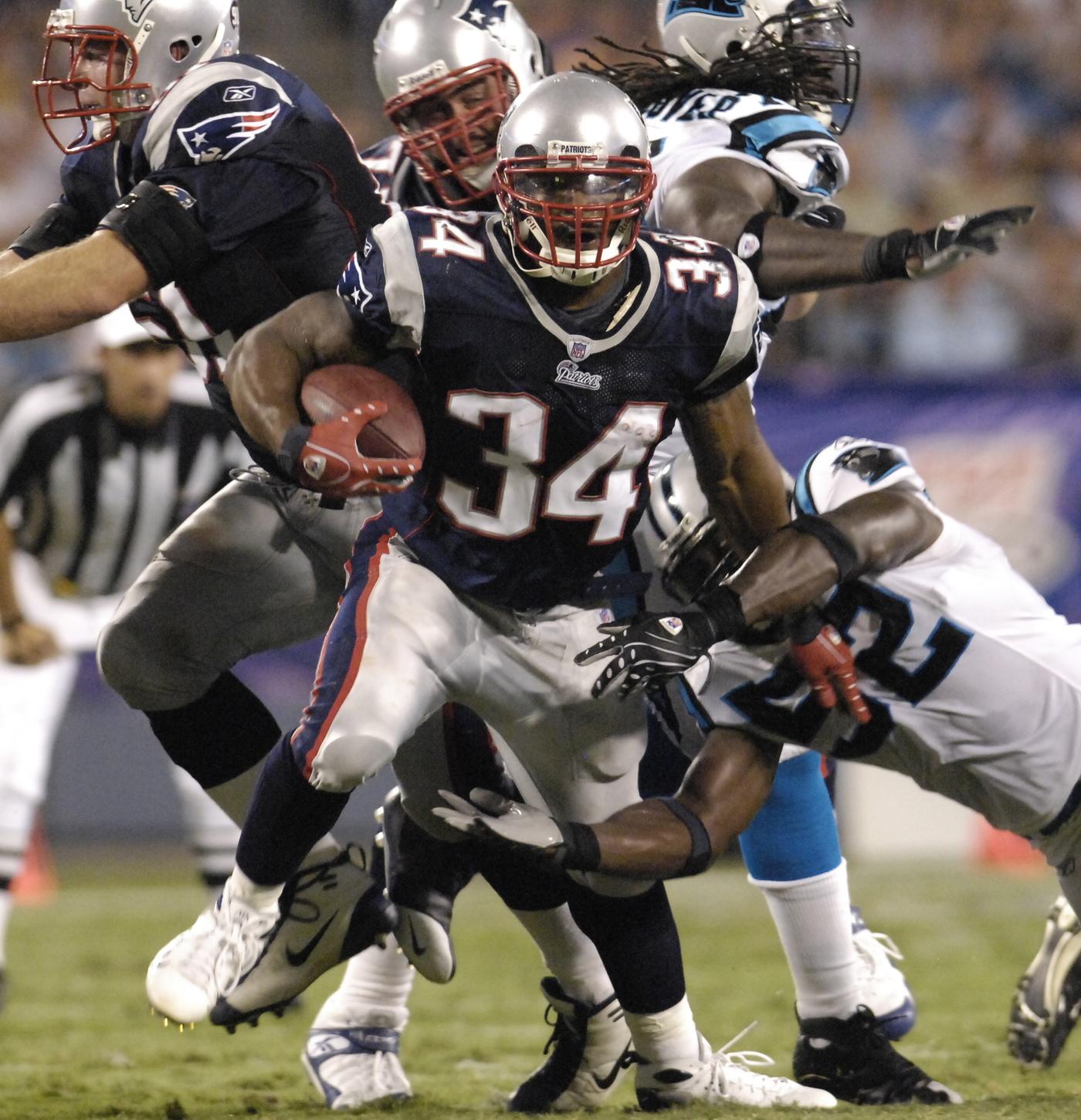 the third quarter when he broke several tackles at the line of scrimmage and scampered for 43 yards. Both of Morris's best plays came on the Patriots second drive of the game, firstly when the Pats had 4th down and 1 situation at their own 25 yard line and opted to go for it. Morris ran it, and he got it. His second great play came a couple plays later when on a third down and long play he caught a pass yards short of the first down and with a guy hanging on to him, threw himself an extra three or four yards to get the first down. All around A + job from this unit.

Defensively, the Patriots were impossible to run against - but they did let up some big passes on third down and long situations. Overall though, it's preseason, but letting up only seven points isn't that shabby. Oscar Lua, who's spot on the team I believe is in danger because of his so far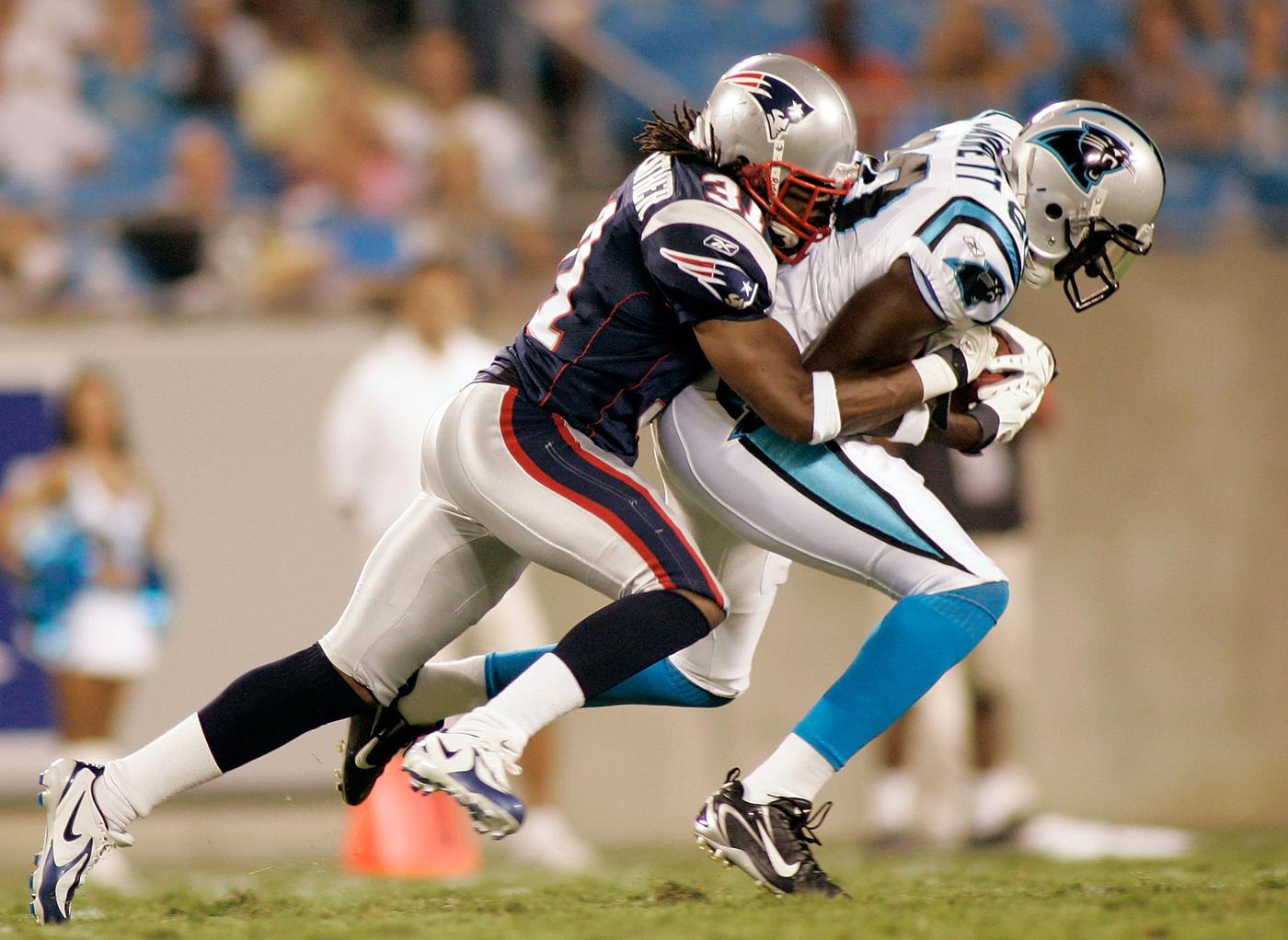 horrific job of doing pass coverage finally caught a break and had the Patriots only interception of the game off David Carr in the forth quarter.

On special teams it was a bad game for both teams in the kicking department as the Patriots blocked two Panthers kicks and the Patriots missed two field goals. The turf or whatever they used at the Panthers stadium appeared to be ripping up way to easily so that could have had something to do with the misses. On the Panthers side, you just have to block the guys coming at the kicker.

The Good
*Heath Evans - two touchdowns and 77 total yards.

*Tom Brady - on target like the good old days with Givens and Branch.

*The wide receivers - Stallworth, Welker, Cardwell and Washington all caught at least two passes and had over twenty yards. Tight ends, Benjamin Watson (4 receptions 26 yards) and Watson lookalike, Marcellus Rivers (2 rec, 27 yards and touchdown) also had great games.

*Defense - when the starters are in - this defense is really good. And
thats without Pro Bowlers Richard Seamour or Ty Warren who haven't yet played this preseason.

*Willie Andrews - quickly becoming one of the best special teams players in the AFC and second best on the Patriots behind future Hall of Famer Larry Izzo. But he also is showing that he can do a good job at the defensive back position as well.

The Not So Good
*Stephen Gostkowski - two missed field goals is not a good sign on what has been a shaky preseason for the second year kicker. Just be glad that it's preseason.

Play of the Game
In the third quarter with Matt Cassel quarterbacking the Patriots, Heath Evans takes a handoff and breaks several tackles for a 43 yard run down inside the Panther eleven yard line. Four plays later, Evans would finish off the drive by plunging into the endzone for a touchdown.

Patriots win 24 to 7. Next week they face the New York Giants at home.
*assuming you know who doesn't get hurt...
Labels: 2007 Season, patriots